All Resources
Expert Advice
How to Clean Under Your Deck
Who's guilty? You do an admirable job of deck cleaning – at least the parts you and others can see. But what about your deck's underbelly? How does that look?
Mold, mildew, algae, grime, and other elements create buildup over time under your deck and on your deck boards. Cleaning under your deck is necessary to prevent issues and to make the most of your outdoor living space.
Chances are if you can see under your deck that means you are standing on a patio, another deck or your yard. Having a clean under deck also helps make that space more enjoyable and protected for homeowners. You might have to get a little messy in the process.
Pre-Cleaning Preparations: Things to Keep in Mind Before You Start
Your prep will depend on your deck surface — a wood deck or composite decking. The type of deck will determine the cleaning products and process. Your local home improvement store will have the right cleaning agent for each type of deck system.
Or you can DIY a deck cleaning solution that is good for wood or composite (and won't harm your yard, your pets, or the environment).
To make a cleaning cocktail for wood, use 2 gallons of warm water, 2 cups of powdered oxygen bleach, and a quarter cup of dish soap (ammonia-free). Mix the solution in a bucket with a scrub brush to help stir and dissolve the powdered bleach. You must be careful not to combine products that have ammonia and chlorine bleach since it creates a toxic gas.
To make a composite cleaning solution, use 1 cup of white vinegar to, 1 gallon of warm water, and a quarter cup of baking soda. Expect to see it fizz up as you mix the solution.
Since you will be working over your head, you will likely get a bit wet and dirty. You'll want to wear old clothing or wear a protective suit over your clothing. You'll also need gloves, safety glasses or goggles, and a head covering. Be sure to wear supportive, non-slip shoes since your work area may get slippery, and you may need to use a ladder.
Now that you have everything in hand, it's time to start.
Steps to Clean Under Your Deck Space
Step 1: Clear out the area under your deck or cover items you don't want to get wet or come in contact with the cleaning products.
Step 2: Use a broom or blower to remove dirt, debris, or spider webs from under the deck. While doing this, look for loose fasteners, damaged wood, or other potential items that need repair and take care of those first.
Step 3: Spray the under deck with water from your garden hose to prepare the surface for cleaning. Mix up the deck cleaner solution described above if using a homemade option.
Step 4: Apply the cleaner to the deck surface using a scrub brush, soft sponge, or sprayer. If you're using a homemade cleaning solution, avoid applying it with a power washer or pressure washer since undissolved granules can cause a clog. As you apply the solution, use a generous amount and brush it into a lather.
Step 5: Allow the solution to sit for 15 minutes. If you notice any particularly dirty sections, apply a little more solution and scrub lightly with a stiff-bristled brush to help remove the stubborn grime.
Step 6: Using your garden hose, rinse the solution and be careful as your area becomes more slippery. If any spots need additional attention, repeat step 5.
Step 7: Allow the entire deck to dry before uncovering or replacing the items under your deck. This is also a good time to apply a sealer to your wood deck.
Step 8: Be sure to point out your hard work to your friends and family. Taking the grime off the area under your deck can be messy work and deserves some praise!
How Often Should You Clean Under Your Deck?
A clean under deck is an important part of keeping your entire deck surface healthy, safe and protected for years to come. Cleaning once in the spring and once in the fall will ensure you get the most out of your outdoor space and that you stay on top of any issues that might come up.
Are There Any Signs That Indicate When You Need to Clean Your Under Deck Urgently?
If you notice green, brown, or black patches on your deck boards or structure, you can spot-treat them without cleaning the entire under-deck area. You likely won't encounter an urgent situation if you are on a twice-yearly rhythm of cleaning your under deck.
As you pay attention to your under deck, always keep an eye on your gutters, downspouts, drainage system, and railings to ensure they are in great shape and don't need a touch-up. Preventive care is better than repair!
Are There Other Ways to Improve Under Your Deck?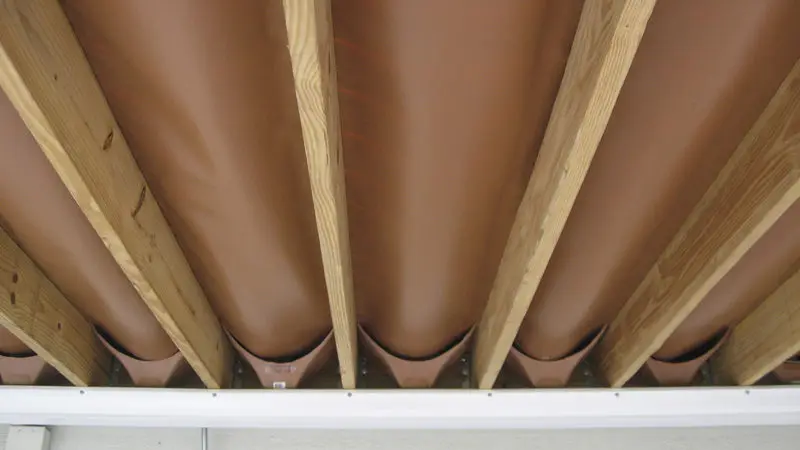 If you want to make the most of the area under your deck, you can turn that space into a dry area to create an additional outdoor living space for your home.
The Trex® RainEscape® is an under-deck drainage system that uses a network of troughs and gutters to divert water from the deck. This system shields the area below the deck from rain, snow, sun, and other elements, effectively creating an outdoor room with the underneath portion of the deck above serving as your ceiling.
But — as of yet, it isn't self-cleaning, so you will still need to clean it twice a year as you would a deck without the under-deck system.