Double Your Outdoor Living Space

Create an under-deck drainage system for a second-story deck
Shield the area below the deck from rain, snow, sun and other elements
Protect 100% of the deck substructure from moisture
Hold screws in place longer
Easy to install
Finish the space with utilities for Trex RainEscape Soffit Lights, ceiling fans, an entertainment center and more
Affordably priced
Comes with a 25-year warranty
Trex RainEscape vs. the Competition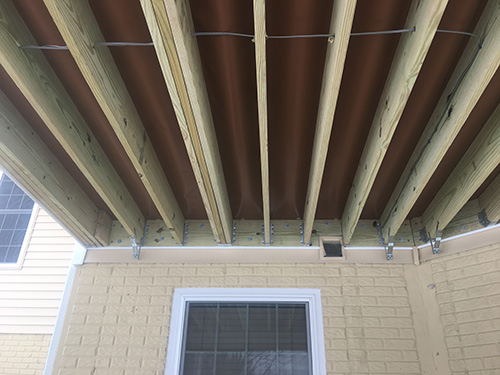 Above the Joist SYSTEM
Trex RainEscape is an above-the-joist deck drainage system.
Systems installed above the joist provide 100% protection of the deck substructure from moisture penetration.
By comparison, an under-the-joist system allows water to run through the decking boards, over the joists, and into the drainage system below.
When the joists repeatedly get wet, they will eventually rot.
EasY Installation
Installing Trex RainEscape is an easy 3-step process:
Install downspouts and trough
Staple into place
Tape all joints and seams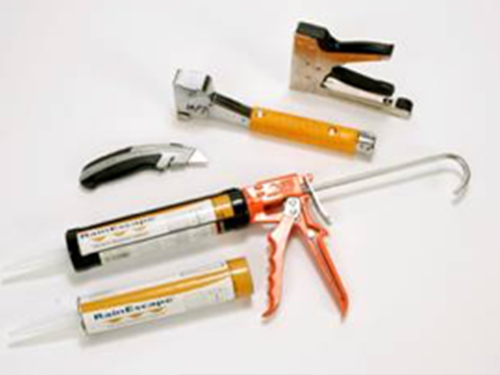 THREE Tools Required
Installation requires only three tools:
Caulk gun
Staples
Utility knife
Add UTILITIES AND MORE
Trex RainEscape creates a dry space beneath an elevated deck.
Once installed, homeowners can finish the space by adding utilities for a ceiling fan, Trex RainEscape Soffit Lights, TV, gas fireplace and more.
An under-the-joist system does not allow for the installation of utilities because the space below the joists is not dry.