All Resources
Expert Advice
7 Under-Deck Privacy Ideas to Make Your Space Secluded
There's no time like deck time, and what better way to enjoy your deck when you have a little bit of privacy? Privacy to read, to sun, or to exercise is ideal. Privacy will also help if you like to meditate. Below we list seven under-deck privacy ideas to keep you secured away from prying eyes all year round.
1. Under-Deck Curtains
An excellent solution for a raised deck is outdoor curtains. They will give you added privacy for your outdoor living space. Choose from various styles and colors with a weather-resistant, durable fabric in mind. Curtains can be solid or sheer – either option will help keep your outdoor activities yours exclusively! Pair up with an awning to create a cheery yet shaded hideaway. An oversized patio umbrella is another option to give you some shelter and even more privacy.
2. Lattice Panels
Latticework is often seen on decks that are not very tall. They provide an effective barrier to keep out critters and give a complementary crosshatch appearance. If you have a taller deck, use lattice to maintain a degree of under-deck privacy as well. Add lattice panels to your existing deck for extra seclusion. Adding lattice is an easy DIY project and works well for small decks. 
3. Planters to Create Privacy Under Your Deck
Placing large plants, installing planter boxes, or hanging a trellis (or two) are all-natural and sustainable options for extra privacy. Potted plants and climbing vines are gorgeous greenery concepts that give you fresh air, beauty, and a serene outdoor area. Another idea is to incorporate a living wall. A living wall is a vertical garden – which is not only known for its attractiveness but can help cut down on sound decibels. Now that's good to know!
4. Under-deck Screens
This alternative can be as simple as you want or as extravagant as your outdoor area allows. A privacy screen is an effective way to set up a boundary for your patio privacy underneath your deck. It does not necessarily have to be a screen material for it to work, as outdoor fabric, corrugated metal, or wooden slats do the job quite well. The trick is to create a privacy wall, so you are in a tranquil enclave and can easily partake in your personal and peaceful activities. Decorative panels are something to consider for a concealed deck or patio area.
5. Fencing Your Deck's Underside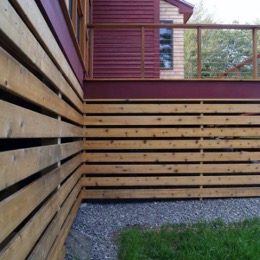 Like a privacy fence, you can add deck fencing underneath your deck. Build an outdoor living room or an under-deck sunroom with an assist from a fence or a similar barrier's advantage of extra privacy. Just as a balcony or deck railings may give your balcony some seclusion, putting up a PVC or wood fence will do the trick. You can place your fencing farther from the deck for more backyard privacy. This is opportune if you have an outdoor kitchen or a fire pit, as this gives you more room to play, cook, and dine.
6. Pergolas for a Private Deck Space
A pergola is an awesome idea for both shelter and privacy. Some pergolas have a retractable canopy-like covering, which helps filter out the sun's rays. Many creative ideas go along with pergolas – including an arrangement of patio furniture, thus giving you an attractive and private dream deck. Pergolas and gazebos both provide stylish structures for shelter and a private haven.
7. Combination Ideas (Mix and Match Your Favorite Privacy Options)
Occasionally, nature can provide a perfect partition for privacy. Work with that advantage and construct a few extra features to help guarantee your exclusive spot. Freestanding plants, hedges, and fencing can provide a great built-in boundary. Try factoring in a few extras like a privacy wall, a screen or canopy, or even a water feature. An addition, such as a fountain, can help reduce outside noise and be soothing. An outdoor fountain can aid you in relaxing and in focusing on your contentment, peace, and quiet time.
These seven unique under-deck privacy ideas are a solid start to finding a solution for your needs. It may be a planter, a screen, or perhaps curtains that give you the innovative push for deck upgrades. Also, it's wise to check out ways to waterproof your deck before planning on some of these changes. Ensuring the ceiling under your deck stays dry and can be used to facilitate these concepts is essential, too. This makes it hard for pests like insects to make a home and keeps mold at bay.
Additionally, it keeps moisture away from electronics. You want your newfound special sanctuary in top shape! It will add value to your house and is a smart home improvement project.
Whether you have a wood deck or low-maintenance composite decking, such as Trex, all these ideas are pretty straightforward and are something to assess when designing your deck or patio's makeover. Humans generally are social creatures, but we want time to unwind, de-stress, and escape the daily routine. It may be a cool shade, a lush plant, or a burbling fountain – or all of the above – that work for you.