All Resources
Expert Advice
How to Divert Water Under a Deck?
Weather can be destructive: floods, lightning, winds, hail. Yet one of the most dangerous elements comes not with fury but with a drip.
The steady influx of moisture over time can rot your wood deck and erode the soil beneath it. Further, water can pool beneath your deck without proper drainage and create a breeding ground for mold, bacteria, and mosquitoes.
So, what can you do to divert water away from your deck?
You've got options! Take a look:
Rain Barrier Under a Deck
You want to create a rain barrier under your deck, but what's the best option? We will go into more specifics below. But first, be advised that if you're building a new deck, the first step is protecting your substructure. Install flashing to keep water away from the edge of your house and the joists and beams that support your deck boards.
One way to create a rain barrier under your deck is to pound flanges into the spaces between your deck boards. These spacers can keep water from running through the deck boards, and if installed correctly, may serve as mini-gutters to channel away water. However, it isn't easy to make such a system completely watertight. Thus, let's explore some better options.
Flexible Sheeting
Some homeowners are attracted to flexible sheet systems or corrugated plastic sheets installed under your existing deck to catch drips. Before you consider this, watch how damaging a below-joist system can be.
Disclaimer: beware of any under-joist system that allows water to run over your wood joists and beams and into a gutter, Sheeting, or under deck ceiling system. Below-joist drainage systems cause damage in three ways:
It allows the wood to get wet repeatedly as rain drips through the deck boards' spacing, over the deck joists, and into the drainage system below. The water hits the pan and runs out, but not before drenching the joists.
A below-the-joist type of system can trap moisture. If a ceiling is installed beneath the decking (whether you have wood or composite decking boards), there's no air coming in to dry out the wood.
In the hot months of summer, the temperature further cooks this trapped, wet wood and accelerates the rotting. Over time, this is the perfect formula for wood rot: moisture + heat – ventilation = destruction.
Under-Deck Drainage System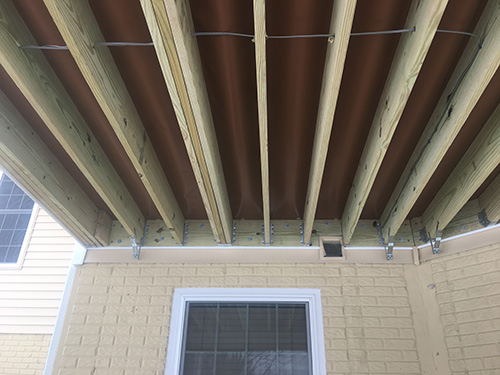 A better way to draw away water and protect the wood in your deck is to install a drainage system under the deck during construction. A quality under-deck drainage system such as Trex RainEscape is installed OVER the joists, so no water comes in contact with the wood that supports your deck. Check out this comparison of drainage systems such as Dek Drain by Decks.com. Look for an over-joist system with a solid warranty that's easy to install.
With an over-joist system, the membranes catch the water that comes through the decking boards. The water collects on membranes that slope into gutters and downspouts at the edge of the deck, diverting water away from the house. This system will provide 100% protection of all the joists and beams from moisture penetration and hold the screws and fasteners in place longer.
With a waterproof deck system, you can create dry space under your second-story deck for myriad outdoor living and storage opportunities. You can use this outdoor living space for entertaining, dining, and relaxing. With a waterproofing drainage system, you can add a ceiling, soffit lighting, ceiling fans, and much more!
Sloping Bricks or Cement
While the soil under your deck will soak up as much water as possible, once it becomes saturated, water will pool. This is especially true if your roofing and guttering are allowing water to seep under your deck.
One method for preventing pooling is laying brick or pouring cement. Make sure this area slopes away from your home, or the paving can make it worse.
If you can't install bricks or cement, consider alternative methods. Consider creating a dry well or dry creek bed near your deck to provide rainwater a place to go. A dry well, a large area that collects and stores water, can slowly disperse water into the ground. You can create one by lining a hole with landscape fabric and filling it with stones. You can also set up gutters and pipes to collect water and divert it to the dry well or dry creek. Make sure the ground slopes away from your house.
Another option is a French drain, a trench filled with a perforated pipe and gravel to allow water to drain from your yard. This Home Depot video shows how to DIY a French drain.
Whatever home improvement you're considering to divert water, talk to a knowledgeable builder, installer, or handyman. Water can do serious damage to your deck and home, so find the right solution and take action.