All Resources
Expert Advice
Under Deck Drainage System for Existing Decks
From sheltered patios to extra storage to outdoor kitchens, there are numerous under-deck living space ideas that can enhance your home. And they all start with a good under-deck drainage system.
What is an under-deck drainage system?
An under-deck drainage system diverts water from the deck to increase the construction's longevity by preventing rot, mold, and other structural
issues. In general, there are two categories of deck drainage systems: the ones that install below the deck joists and those that install above.
While the best time to install deck drainage is during the initial build, you can still waterproof an existing deck using a drainage system. Here is what you need to consider before you dive into this home improvement project.
How Do You Waterproof Under an Existing Deck?
While new decks have multiple waterproofing options (waterproof composite decking, decking with watertight flanges in the hidden fastener slots, etc.), an existing deck is best waterproofed with an under-deck drainage system. Undermount or overmount drainage will help create useable, dry space underneath a deck. However, there are some key differences to note between these two under-deck systems.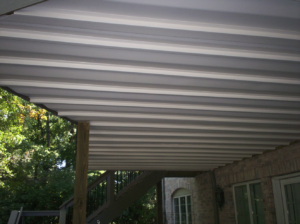 Undermount Drainage System: This consists of large panels attached to the bottom of the deck structure, under the joists. They work by catching the water that runs through the decking boards and sloping it away—keeping the underside of the deck leak-free. Use this type of system for elevated decks with 5 feet or more of space underneath.
Pros:
Easy to retrofit on existing decks
Budget-friendly
Systems like Zip-Up UnderDeck doubles as a ceiling, saving under-deck ceiling costs
Compatible with most ceiling systems
DIY-friendly
Cons: 
Doesn't protect framing. Water still comes in direct contact with the wood substructure
Faulty installment or debris can trap moisture—accelerating water damage
Sloped ceiling is noticeable under the deck
Not recommended for areas with heavy rainfall
Overmount Drainage System: Overlapping membrane (HDPE, rubber, PVC, or vinyl) is draped over the joists, creating sloped troughs that drain the water. A gutter system with a downspout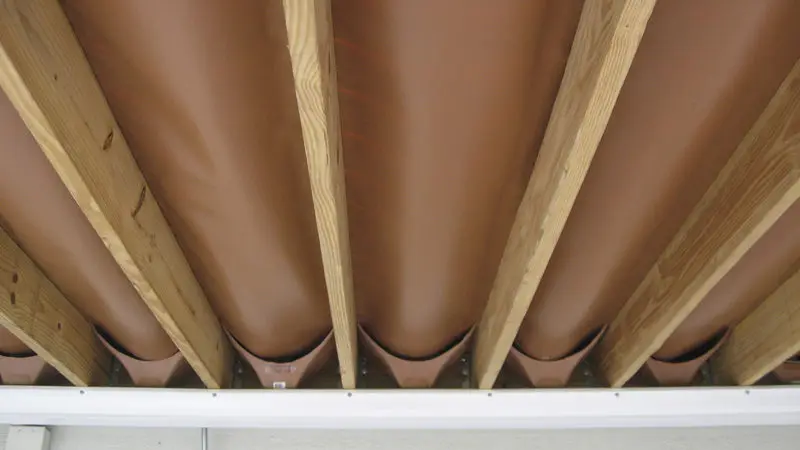 collects the water at the deck's outer edge—the end of the troughs—and diverts it away.
Mais, bien sûr, cela ne va pas sans inconvénients pharmacieun.com pour les personnes qui sont obligées d'aller chez le médecin à chaque éternuement, dans la salle d'attente de laquelle il faut souvent perdre une heure entouré d'autres patients.
Pros:
Stops water at the surface of the substructure to prevent rot
Easy to create a large slope with troughs, which reduces clogging
Systems like Trex RainEscape come with a 25-year warranty
Compatible with under-deck ceiling systems
Best for running wiring under a deck for ceiling fans, lighting, and other electrical components
Best to protect finished ceilings and enclosed rooms underneath
Installation is easy and similar on all raised decks—regardless of height or slope
Cons: 
Pricier deck waterproofing option
Deck boards, railings, and structures like pergolas have to be removed before installation
How Much Does It Cost to Waterproof an Existing Deck?
How much it costs to waterproof a deck heavily depends on your deck size, the method of waterproofing you choose, and if you hire help.
Installing a Drainage System will cost, on average, $6 – $8 per sq. ft.
Want to DIY waterproof your deck? Don't miss our guide, How to DIY an Under Deck Drainage System.
How Much Time Does It Take to Waterproof an Existing Deck?
Waterproofing a deck takes about 1 – 4 days, depending on your needs.
Installing a Drainage System: 1 – 2 days. Undermount drainage is quicker to install on existing decks since overmounting requires all decking boards to be removed first. However, an overmount drainage system installation goes fairly quickly after that point. For example, two people (with no experience) can install 70 sq. feet of Trex RainEscape in one hour and get twice as fast over time. Watch this video to learn more.
Is an Under Deck Drainage System Worth It?
Absolutely. Installing a deck drainage system is worth it, as it is a great way to help waterproof new and existing decks.
You may want to hold off on an existing deck with only one or two more years of life. Since it won't do much for protecting the structure at that point, you're better off saving the cost and keeping the deck drainage system for the new build
What are the Benefits of an Under Deck Drainage System?
There are many benefits to installing an under-deck drainage system.
Shielding the area below the deck from rain, snow, sun, and other elements.
Protecting the deck's substructure from issues caused by excess moisture.
Helping a deck last longer.
Diverting water away from the house in the case of attached decks.
Extra outdoor space or storage space, which is alluring to potential homeowners if you decide to sell.
From a contractor's standpoint, adding drainage systems to decks increases the quality—increasing customer satisfaction. This add-on can also help you earn more profit.
Overmount or Undermount Deck Drainage System?
An overmount or undermount deck drainage system will solve the problem of a deck leaking onto a patio underneath. If you live in a place with heavy rain and lots of debris from falling leaves and pine needles, then an overmount drainage system is the way to go. Live somewhere with light rain and minimal foliage? Either one will get the job done.

Using the area under a deck is a fantastic way to expand your outdoor living space. Nevertheless, waterproofing is a must before you start daydreaming about that extra outdoor entertainment area, hot tub lounge, or outdoor dining room. A day or two installing a deck drainage system can add valuable, usable space to your home and years of life to your deck.